Alum's design, illustration work represents Filipinos and the Bay
October 24, 2023

Since drawing art in yearbooks in his youth, LeRoid David has wanted to make a positive impact through art 
Long before his illustrations would be seen at restaurants and on television, LeRoid David drew art in school yearbooks. Not just the covers. Every year he would sign dozens of yearbooks with a personalized comic for his peers. Each piece used the same caricature-based style and humor that is discernable in his work today. 
The San Francisco State University alumnus has a diverse client list. Fans have waved the cheer cards he created for NBC Sports from Oracle Park to Chase Center to Levi's Stadium. Last year he designed the official San Francisco Giants T-shirt for Filipino Heritage Night. David's digital caricatures are on signs for The Lumpia Co. restaurant, and his work appears in the 2003 superhero spoof film "Lumpia" plus the sequel "Lumpia with a Vengeance."  
The erstwhile Tower Records at the Stonestown Galleria is where David (B.A., '03) first applied the skills he was learning at nearby San Francisco State. He created in-store displays and doodled on the whiteboard above the cash register.  
David and the interviewer for this Q&A attended Burton High School in San Francisco together. 
In high school, you were sketching comic art by hand for the yearbook, newspaper and even the senior class T-shirt.  
I've always been an illustrator, going as far back when I was 3 years old growing up in San Francisco. I was always fascinated by product labels and logos, in addition to reading comics and watching cartoons.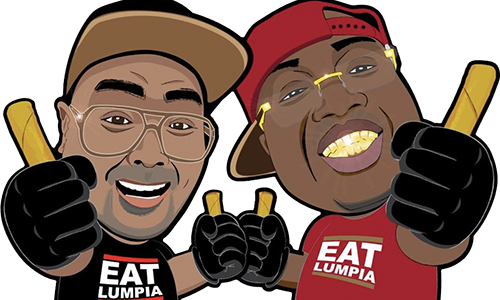 LeRoid David's digital illustrations of The Lumpia Co. of proprietors Alex Retodo and Earl "E-40" Stevens. Photo credit: courtesy of The Lumpia Co. 
I'll always remember you would take the time, upon anybody's request, to sign their yearbook with a personalized cartoon. 
That goes way back to elementary school. Around that age I realized that art can make a big impact. I saw the impact of creating something for someone and how it affects them emotionally. I got hooked to using art to make an impact. It gave me a feeling of wanting to do more. 
To this day, I will get a message from old classmates, even people I haven't seen since elementary school. They would go through their closet and find something that I did for them, and I don't even remember it! 
Tell us about your job at Tower Records and how it intersected with your SF State life.  
I started out just like a regular cashier. Slowly over time, I got involved with the visual arts team. I would assist the store artists with a lot of the signage, and that's when I would start to apply the design techniques I learned from class.  
I stayed with Tower Records 'til the very end, which was 2006. I was able to move up and work for the regional office to do marketing and events locally for the Bay Area stores. My job was to propose music events, whether it's album signings or even in-store performances.  
Describe a class or a moment at SF State that had a major impact on your life. 
Man, there were a lot of moments. The first thing that stands out is becoming part of DAI [the Design and Industry Department] at SFSU. It not only helped develop my skills as a designer, but it also helped me learn how to connect with my peers, learning how to network and how to be a better communicator. 
The second thing at State was being part of FilGrad, the student-run Filipino graduation. At State I solely focused on my major and what I needed to do to graduate. Unfortunately, I didn't have the opportunity to take other classes such as Ethnic Studies. I knew that SF State had a very strong Ethnic Studies program, especially when it came to Filipino American history, so I joined FilGrad as a way to connect with the Filipino American community. 
Of course at the very end, we held a very special fundraiser: We hosted the premiere of the "Lumpia" movie at SF State. It was crazy, man, it was. It was a sold-out, standing-room crowd.
I'm a second-generation Filipino American. My parents immigrated to the U.S. when they were really young, so I didn't grow up speaking Tagalog. I only knew what being Filipino was to food, pretty much. It wasn't until my later years, and again, especially at SF State, where I learned about Filipino American history. 
I saw that, as artists, that we, too, can also create — and be part of that history, too.